How to Keep Your Hands Moisturized During Winter
February 24, 2023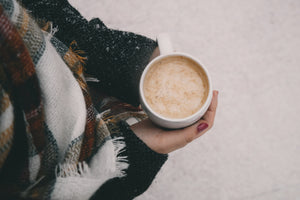 Tired of dealing with dry hands during the winter? Do you feel like you're always dealing with flaky, itchy skin, tightness, and discomfort during colder temperatures?
These symptoms are more common than you think during winter. When the temperatures drop and the humidity levels change, it creates a recipe for disaster for your hands. 
Thankfully, there are ways to combat winter weather and keep your hands soft, supple, and moisturized. 
Here's how:
Slip on a pair of mittens
If you're spending a day outside in cold weather conditions - don't forget to wear gloves or mittens. Not only will they keep your hands warm, but the mittens also protect your hands from the chilling weather and harsh climate. 
You'll want to look for a pair of water-resistant or rubber-lined gloves. If you're looking for something cozier than that, try cashmere or wool-lined. Any other kind will keep your hands warm, but they might not protect you from the freezing cold wind or rain outside. 
Choose moisturizers with vitamins and nutrients 
To combat the chilling weather, you'll need a moisturizer formulated with nutrient-rich ingredients. This will ensure you can lock in all-day hydration and keep your hands moisturized throughout the winter day. We recommend our Extra Virgin Coconut Oil Moisturizing Cream. This moisturizing cream is jam-packed with vitamins A, C, & E to deliver ultimate hydration and provide you with softer, smoother hands. 
Keep wearing your SPF
Yes, you need to wear SPF during the winter! Even though the sun may be hidden behind clouds, it doesn't mean it's not there. When applying SPF to your face and body, never skip the hands. Your hands are exposed to the same UVB rays and need that extra layer of protection to prevent wrinkles, fine lines, and signs of aging.
Go easy with the hand sanitizer
While hand sanitizer is great to carry around, it's filled with alcohol and other drying agents. If you're reapplying hand sanitizer throughout the day, it can dry out your hands and cause more harm than good. When you combine this with the chilling temps and cold weather conditions - your hands are in a world of trouble. Use hand sanitizer only when you need to, or consider investing in one with moisturizing properties. 
Moisturize before you go to bed
If you're only moisturizing during the day, it could be why your skin is extra dry during the winter months. When you complete your skincare routine, don't forget to give your body and hands the same level of attention. 
We recommend using our Retinol Advanced Moisture Cream. This formula contains a potent blend of retinol, the holy grail of anti-aging skincare. When used regularly, it can help improve skin tone, boost firmness and smooth the skin on your face, body, and hands - getting you ready to take on the chilling temps with confidence. 
Wash your hands, but skip the hand dryers
Always wash your hands with soap and water after using the restroom or being in a public place. However, use the soap sparingly. Many soaps in public restrooms can strip your hands of their natural oils, causing them to feel dry, dull, and chapped. Our Lemon Hand Soap is formulated with essential oils to keep your hands moisturized, even after washing! After washing your hands, skip the air dryer. That powerful burst of hot air can leave your hands feeling dry, tight, and irritated. 
Use a thicker moisturizer
During the winter, water evaporates from your skin more quickly. This means if you're still using a gel-based moisturizer that you used during the warmer weather months, it could lead to dryness. 
To preserve hydration, you'll need to lather on a thicker moisturizer, like our Super Beauty Cream. This thick moisturizing cream is formulated with Collagen Tripeptide and Marine Algae to provide intense hydration with just a few uses. 
Stay hydrated with NatureWell Beauty 
If you're constantly battling dry, chapped skin during winter: You aren't alone. The drastic change in temperatures can leave your skin dry, impacting your self-esteem and confidence levels. 
With NatureWell Beauty, you can stay ahead of these changes in the climate with a hydrating moisturizer and good-for-your-skin ingredients. All our products are formulated with your skin in mind, so you can look and feel your best throughout winter.
Start shopping today
to find the perfect moisturizer for you.