How to Soothe Sensitive Skin
August 05, 2022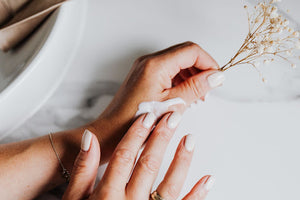 Struggling with sensitive skin and ongoing irritation? Don't worry: it's more common than you think. Several outside factors could be contributing to your skin sensitivity. Even small changes in your diet can lead to a world of irritation. 
Regardless if it's caused by the change in weather, your skin care products, or hormones: Sensitive skin can be difficult to live with. The wrong skincare product can lead to unwanted dryness, redness, and itchiness. 
If you feel like you're constantly dealing with itchiness, redness, or skin tightness: It may be a sign you need to adjust your skincare routine. 
Here are a few things you can do to help soothe sensitive skin and improve your skincare routine:
Consider your triggers
One of the best ways to soothe sensitive skin is by eliminating the triggers that cause irritation.
The problem is everyone has different triggers, and you'll need to go through some trial and error to find yours. If you use a product and aren't seeing results, don't be afraid to cut it out and try something else. The same goes with foods in your diet, drinks you consume, and outside environmental factors. 
Listen to your body, switch sugary foods for healthier choices, and aim for natural ingredient skincare products.
Look for natural ingredients
If your current skincare products are causing irritation, it may be a sign that the ingredients don't play nice with your skin. Natural ingredients are typically easier on sensitive skin than synthetic ingredients. 
Look for calming ingredients such as ceramides, green tea, niacinamide, and chamomile. 
Play with a toner spray
Toner sprays provide a refreshing splash of hydration designed to help your face stay moisturized all day. For sensitive skin, these sprays can help eliminate possible irritants on the skin's surface and leave your skin happy and hydrated. 
A great option is our Rose Water Facial Toner Spray. It's formulated with rose water to help you keep your skin feeling its best throughout the day.
Shop our Rose Water Facial Toner Spray on Amazon!
Go easy with exfoliating
The problem with exfoliating is that individuals often do it incorrectly. This means it can worsen your symptoms and cause more harm than good. Frequently exfoliating can also damage the skin barrier and cause visual signs of irritation and redness. If you choose to exfoliate, it's always recommended to go with a trusted brand and to only do it once or twice a week.
After exfoliating, you'll want to make sure you use a moisture cream like our Avocado Oil Moisture Cream. Avocado oil contains antioxidants and anti-inflammatory agents that help soothe irritation and keep your skin nice and smooth. Doing this right away will help your skin lock in hydration and help you avoid irritation. 
Shop our Avocado Oil Moisture Cream on Amazon! 
Use a moisturizer every day 
If your skin is sensitive because it's dry, you'll want to use a moisturizing cream daily to help protect your skin and keep it moisturized. Hydrating lotions will help soothe the irritation and improve your condition over time. 
We recommend our Extra Virgin Coconut Oil Moisturizing Cream. It's formulated with Vitamin A, E, and C and is specifically designed for individuals with dry and sensitive skin.
Shop Extra Virgin Coconut Oil Moisturizing Cream on Amazon!
Upgrade your skincare with NatureWell Beauty
At the end of the day, the best way to soothe sensitive skin is to take a step back and look at your current skincare routine. If you're using products with a list full of ingredients you can't pronounce, you may do more harm than good for your skin. 
At NatureWell Beauty, we take pride in using natural ingredients that leave your skin looking and feeling its absolute best. All of our skincare solutions are formulated with good-for-you ingredients to give you the best of the best results. 
Shop our collection of products today
to get started.