The Benefits of Coconut Oil in Skincare
March 11, 2022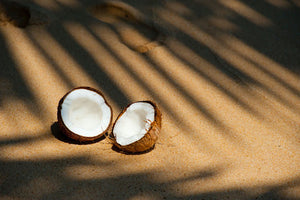 You may use coconut oil when you're cooking, but have you ever thought about using it on your skin? Don't let the oiliness fool you: coconut oil is a natural moisturizer that has a wide range of beauty advantages everyone can benefit from. 
Whether you're looking for something that can give you a hydration boost during colder seasons or you're looking for a natural ingredient to treat unwanted skin conditions, coconut oil has you covered.
Let's take a closer look:
What is Coconut Oil?
Coconut oil is made of 100% fat and 80-90% saturated fat. In cooler temperatures, it takes on a thick consistency and, in warmer temperatures, it melts and turns into a liquid form. It's derived from fresh or dried coconut meat that has been pressed into a liquid form. 
What is coconut oil used for?
Coconut oil can be used in everything from cooking to treating skin conditions. Many people also use it to treat damaged hair or help fight off cavities and plaque. 
Not only is it high in medium-chain fatty acids, but it also has anti-inflammatory and anti-bacterial properties which makes it good for treating infections or warding off harmful bacteria. 
The beauty benefits of coconut oil
Not only can coconut oil benefit our wellbeing and overall health, but it also has unique beauty benefits that can help you reach your goals and enhance your current routine. 
Here are just a few:
Natural makeup remover
When you apply coconut oil to the face, it naturally melts on the skin, making it a great makeup remover that's not as invasive as makeup wipes. 
If you have coconut oil around the house, apply it with your hands to warm it up. Once it turns into a liquid form, apply it to your face and watch your makeup melt off. From there, wash your face to remove the access makeup. 
Boom! You have a cleaned face left with a healthy glow. Don't worry, it's easy to wash off and doesn't leave your skin feeling oily.
Smoothes and moisturizes the skin
Coconut oil can be used to moisturize your entire body due to its ability to lock in moisture. Some people also use it to treat cracked heels, elbows, or other stubborn dry parts of their skin. 
Our Extra Virgin Coconut Oil Moisture Cream is formulated for the body and face and is sure to provide you with all-day hydration, giving you healthy and supple skin. 
Buy Extra Virgin Coconut Oil Moisture Cream on Amazon!
Pro tip: Is your skin in need of a moisture boost? Consider creating a DIY coconut oil face mask! It's a low-cost solution that will leave your skin nourished and hydrated. You'll thank us later!
Anti-aging properties 
Studies suggest that coconut oil can provide our skin with a collagen boost. As we get older, our bodies make less and less collagen, which is needed to maintain healthier-looking skin and fight off signs of aging. Our bodies use collage to maintain the skin's elasticity and combat fine lines and wrinkles.
Lip balm
Coconut oil is a common ingredient found in lip balms and lip masks due to its hydration properties. 
You can also choose to apply coconut oil directly to your lips to treat chapped lips or prevent cracks. 
Treat skin conditions and combat inflammation
Due to its anti-inflammatory and anti-bacterial properties, coconut oil can help treat eczema and other skin conditions. 
Studies also show that it can help treat inflammation, reduce skin redness and irritation, and help heal wounds. 
Your go-to hand moisturizer 
Yes, it can help keep your hands smooth and soft, too! If your hands are always dry or have any callouses, you can try out Coconut MCT Moisture Cream to keep them soft and supple all day long. 
Buy Coconut MCT Moisture Cream on Amazon!
A little bit goes a long way and can give you that extra boost of hydration your hands need. 
Would it surprise you if we said there were way more benefits past that? From keeping your hair healthy to keeping your skin hydrated, you wouldn't believe many different ways you can use coconut oil.
Next time you're shopping for new skincare products, look for products that utilize this key ingredient if you're ready to give it a try. Not only will it leave your skin looking radiant and supple, but it will also provide you with intense hydration that can keep your skin healthy and happy all year long. 
Remember: everyone's skin is different! Before you lather up your body or face with the coconut oil you use to cook with, consider doing a patch test. 
If you're not one to experiment with DIY, no problem! Our moisturizer is a must-have that can help you see the results you're looking for.