The Benefits of Rosewater in Skincare
April 29, 2022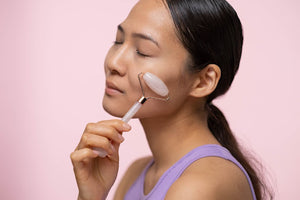 It turns out: roses are for more than just romance. If you've ever experienced the feeling of a spritz of rosewater on your face, you know what we're talking about. Rosewater is a common ingredient in skin care products and is raved about in the beauty industry for its soothing properties. 
Whether you live by this ingredient or haven't used it before, we're here to walk you through some of the many benefits. 
Benefits of Rosewater
Reduce redness and soothes irritation
If you suffer from any unwanted redness, rosewater can help temporarily soothe the skin and give you quick, instant relief. A few spritzes may also help with irritation and can help calm your skin. 
Anti-aging properties
There's a chance some of your favorite anti-aging products have rosewater as an active ingredient. When used regularly in your skincare routine, it can help visibly reduce fine lines and wrinkles.
Tighten the skin
This ingredient can help temporarily tighten the skin. Which will provide your skin with a plump, firm look: creating the perfect canvas for a full makeup look.  
A natural source for antioxidants
Similar to vitamin C, rosewater has natural antioxidant properties. Which is a must-have for any skincare routine. Antioxidants are needed to protect us from free radicals and outside factors, such as UV rays and pollutants. 
Moisturizing and hydrating
Rosewater has anti-inflammatory properties which can help hydrate and moisturize your skin. It's also a common ingredient found in popular moisturizers.
Reduce acne
Rosewater has antibacterial properties, which can help combat the bacteria that cause acne. It can also help remove excess oil and cleanse your pores. 
A gentle toner alternative 
Some toners can be harsh on the skin and cause unwanted irritation. Switching to a rosewater toner spray can help you receive the daily hydration boost you need, and you never need to worry about a bad reaction from your skin.
Sit back, relax, and enjoy the aroma!
Rosewater has relaxing and healing properties, that's why it's commonly used in aromatherapy and vapor therapy. Using it in your skincare routine will allow you to experience the natural, relaxing effect it has on individuals. Oh, and how can you forget how great the aroma of rose petals is? 
How to use rosewater in your skincare routine
No matter your skin type, you can benefit from the calming properties of rosewater. It's gentle and doesn't disrupt the natural oils on your face, making it easy to implement into any skincare routine. 
One of the most effective ways to use rosewater is utilizing it as a toner, like our Rosewater Facial Toner Spray. After you clean your face with your go-to facial cleanser, you can apply the toner spray to your face and neck. Let the toner sit for a minute before moving on to the serums or a moisturizer.
Buy our Rosewater Facial Toner Spray on Amazon!
You can also carry a toner spray in your purse while you're on the go when your skin feels dry: and you need a hydration pick-me-up. Our rosewater facial toner is formulated with rosewater and rose oil. So you can experience the hydrating and soothing benefits of both: wherever you go. 
Rosewater can be a great addition to just about any skincare routine and help you see the results you've been looking for. Next time you're looking for skincare products to enhance your natural beauty, check the ingredient list for rosewater. You may already be experiencing the benefit, and you don't even know it. If your favorite products don't utilize them, don't worry. You can always try our
Rosewater Facial Toner Spray
. It's easy to add to your routine and will give you the hydrating boost you've been craving.