5 Benefits Of Cranberries For Skin
November 25, 2022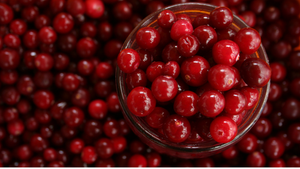 Obsessed with cranberry sauce at the Thanksgiving table? 
Some may say cranberry sauce is a must-have topping for the Thanksgiving turkey. It helps keep the meat moist and provides a delicious sweet taste to the meal. (However, it always seems to be the one dish someone forgets!)
If you didn't know: Cranberries are more than just a juicy fruit or Thanksgiving side dish. They're also used in a wide array of skincare products and can provide a world of benefit to your skin. 
Here are 5 benefits of incorporating cranberries into your routine:
Great Source of Vitamin A 
Vitamin A is the secret necessity to a thriving skincare routine. It's known for its anti-aging and anti-inflammatory properties. This means it can help individuals constantly deal with unwanted acne or blemishes. Skincare products with cranberry extract or cranberries as the main ingredient can also help soothe irritation and be a great option for sensitive skin.
Powerful Antioxidant
Cranberries are rich in vitamin E, which is a powerful antioxidant. If you didn't know: Our skin needs antioxidants to combat free radicals. Free radicals are known for causing oxidation and UV damage to the skin barrier. 
The worst part? Free radicals are everywhere and aren't always avoidable. They're in the pollution outside, the UV rays, cigarette smoke, and more. Thankfully, if you have enough antioxidants in your system and skin, you can combat the effects of free radicals and maintain your skin's natural beauty.
Everyone needs more antioxidants in their diet and skincare. Looking for solutions that incorporate cranberry can be a great way to get that extra needed dose your skin craves. 
Natural Brightening Properties 
Cranberries are filled with vitamin C and salicylic acid. The vitamin C present in cranberries is known for helping individuals achieve glowy skin and visibly eliminate blemishes. These two components work together to also help reduce hyper-pigmentation, eliminate acne scars, and lighten blemishes. 
Firm and Tighten the Skin
Cranberries contain essential fatty acids. These fatty acids help firm and tighten the skin, allowing your natural beauty and youthful glow to take center stage. The presence of omega 3 and 6 can also help fight off eczema symptoms. 
The vitamin C within cranberries is essential to collagen production. Collagen is what keeps our skin nice and firm. Incorporating cranberries into your skincare routine can help you boost your collagen production levels.
Antibacterial Properties
The antibacterial properties make cranberries great for treating redness, acne, and other skin conditions caused by bacteria. With an antibacterial component in your skincare routine, you can treat blemishes, clear your pores, and fight off bacteria that cause acne before it becomes a bigger problem. 
How to Incorporate Cranberries into Your Skincare Routine
If you're ready to experience the benefits of cranberries in skin care for yourself, you've come to the right place. 
Our Sparkling Cranberry Moisturizing Cream is a rich cream that melts into the skin and helps lock in moisture. The expert formula is designed to fully-hydrated skin and give you that extra layer of protection against the dry winter season.
The best part? The cranberry scent provides an oh-so-festive feeling that will leave you ready to take on holiday parties, date nights, and everything in between. 
Our Dynamic Renewal Cream is also formulated with cranberry extract. This is our go-to high-performance cream that's formulated with our exclusive 33 Botanical Super Complex. Using it daily can help you restore radiance, hydrate your skin, and reduce the appearance of fine lines and wrinkles. 
Experience the NatureWell Difference 
Our Naturewell Beauty skincare solutions are clinically tested and formulated with good-for-you ingredients. With any of our products, you never need to worry about what you put on your skin. We've created our products to help you experience the best of the best at an affordable price. 
If you don't think our Sparkling Cranberry Moisture Cream is the right solution for you, feel free to shop our other ultra-hydrating solutions. You're sure to find a formula to help with any of your troubling concerns.