5 Essential Products You Need To Have In Your Skincare Routine
November 04, 2022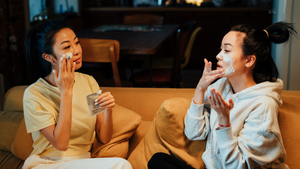 You've probably read countless articles online about beauty advice telling you what you need to help you create the perfect skincare routine for your skin type. It's true: We all need a skincare routine that meets the needs of our skin. However, we don't all need to commit to a 10-step skincare routine every day and night. There's a way to take a simplified approach to skincare that ensures you still have access to all the nourishing nutrients your skin needs to thrive.
We're here to walk you through five essential skincare products you can't skip to help you build an efficient skincare routine that will help you see results.
Here's everything you need to get started:
The Five Must-Have Skincare Products
Facial Cleanser 
A cleanser is there to help you eliminate any unwanted dirt and grim. When you forget to cleanse your face, dirt and bacteria can gather in your pores. This can lead to acne, blemishes, and unwanted breakouts. You'll want to find a trusted cleanser you can use twice a day.
Pro tip: Pay attention to the ingredient list and always look for a cleanser formulated with gentle ingredients that won't strip the natural oils on your face. Avoid ingredients like sodium lauryl sulfate, alcohol, and sodium Laureth sulfate. 
Moisturizer
Hydration is key to maintaining your youthful glow. A hydrating moisturizer will help your skin retain moisture and keep your skin supple. Without a daily moisturizer, your skin may dry out or exhibit premature signs of aging. 
Always look for good-for-you ingredients that target your concerns, such as antioxidants, retinol, and hydrating oils. 
Here are a few moisturizers to help you get started:
Retinol Advanced Moisture Cream

: Formulated with retinol to improve skin texture and boosts elasticity.

Vitamin C Brightening Moisture Cream

: Visibly enhances skin tone and achieves healthier-looking skin with advanced micro-encapsulated Vitamin C.

Extra Virgin Coconut Oil Moisturizing Cream

: An expert blend of proven antioxidants, vitamins, and minerals to help you achieve soft, supple skin.
Toner 
Toners are highly misunderstood and underrated. This hydrating tool is a great must-have that will breathe life back into your skin whenever you need it. Toners are also great to carry with you while on the go on summer days, and you need extra hydration. 
Meet your new best friend: Our Rose Water Facial Toner. This hydrating formula is made with rose water and oil and is ready for you to use whenever your skin feels dry. All you need to do to experience the hydration and soothing benefits is give your face a few spritzes, and you're ready to take on the day.
Serums
High-quality serums are jam-packed with the nourishing ingredients our skin can benefit from. You can layer as many as you choose or take a more targeted approach: The choice is yours. Depending on the ingredients and serums you choose, they are typically great for your nighttime routine.
Exfoliant 
An exfoliant is an add-on skincare product you don't actually want to be using every day. If you use an exfoliator every day. You'd strip the natural oils on your face and cause more harm than good. 
However, using one every once or twice a week is a great way to deep cleanse your face and eliminate all the grime your cleanser wasn't able to get. Instead of a formula with gritty ingredients, look for a chemical exfoliant. These are much easier on your skin and can be more beneficial. 
Always listen to your skin when using an exfoliant. If your skin shows signs of irritation or redness, it may be a sign to go easy on your skin!
Get More From Your Skincare With NatureWell Beauty
Ready to create a next-level skincare routine your skin loves? You've come to the right place. At NatureWell Beauty, we formula products with good-for-you ingredients. So you can feel good about what you're putting on your skin.
Ready to experience the NatureWell Beauty difference? Start shopping today.