5 Habits Of People With Flawless Skin
October 21, 2022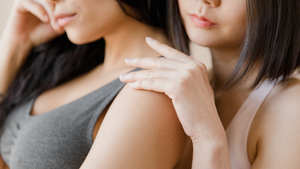 Have you ever met someone who had absolutely perfect skin? We're here to let you in on a secret: That flawless skin is from more than just genetics. Those people have developed healthy skin habits that have helped them reach their skincare goals. The best part is, these habits may be easier to incorporate into your daily routine than you might think. 
Here are five habits for people with flawless skin:
Prioritize the right moisturizer based on your skin's needs 
We'll be the first to tell you that you can't just buy the moisturizer your friends or favorite influencers use. Everyone's skin is different and needs to be treated differently. It can be easy to go with recommendations that work for other people. However, instead, take a minute to step back and think about your unique skin care needs. 
Here's how some of our top-selling moisturizers help different skin types:
Retinol Advanced Moisture Cream

: Retinol helps combat signs of aging by helping boost firmness and elasticity. Also great for smoothing rough and flaky skin
Collagen Moisturizing Cream

: Our expert blend of amino acids and peptides, collagen helps refine textures, hydrate skin, and increase suppleness. 
When looking for the right moisturizer for your skin, always look at the ingredient lists. Different ingredients lead to different results. It may take some trial and error to find what works best. However, once you find it, you'll never go back to having skin struggles!
Remove makeup before going to bed
If you go to bed with makeup on your face, you risk irritation, acne, and inflammation. Individuals with flawless skin always wash their face at least twice a day. This ensures they have a clean base before applying makeup and helps eliminate excess oil, debris, and dead skin. 
Cleanse, tone, and wear sunscreen every day
Even if you aren't feeling up to the task of putting on makeup or going through an extensive skincare routine, make sure you do these three things at the very least.
A cleanser is there to remove any dirt, debris, and excess oil. Providing you with a clean slate every morning and night before you go to bed.
Next, you'll want to use a hydrating toner to add some of the moisture back into your skin after your cleanser. We recommend our Rose Water Facial Toner. It's formulated with Damask Rose Water and Oil, two ultra-hydrating ingredients. The best part is you can carry this toner in your purse or bag while you're on the go. If you're ever in need of some extra hydrating, just give your skin a few spritzes!
Lastly, apply sunscreen! Sunscreen is a must-have to protect you from UV exposure and free radicals. If you skip the sunscreen (even on those cloudy days!) You're more prone to unwanted signs of aging. 
Every day you wake up, wake up ready to protect your skin. 
Take supplements and prioritize a healthy diet
More often than not, your skin is a reflection of what you choose to put into your body. If you aren't eating a balanced diet or you aren't taking any needed supplements, your skin could suffer. Make sure you're getting enough fruits, veggies, and protein into your diet.
If you aren't sure which supplements you need in your life, start with ones that benefit your gut health. Over 70% of your immune system lives in your gut. If your gut isn't healed, it could impact your energy levels and overall health. Which can begin to affect the appearance of your skin. Probiotic supplements help increase the number of good bacteria in the gut. This powerful probiotic contains four unique strains of probiotics to support digestive balance and immune function.
Sleep 8 hours a night
Beauty sleep is much more important than you might think! Make sure you're getting to bed at a reasonable hour and clocking in 8 hours of sleep every night. This will ensure your body is well rested and ready to take on the day. 
Get the flawless skin you deserve with Naturewell Beauty
Ready to get the flawless skin you've been craving? You've come to the right place. At Naturewell Beauty, we want to help you discover affordable solutions that help you see results. We use good-for-you ingredients that are clinically tested and ready to be incorporated into your flawless skin routine. 
Start shopping today to experience the Naturewell Beauty difference.