Benefits of Avocado Oil in Your Skincare Routine
July 22, 2022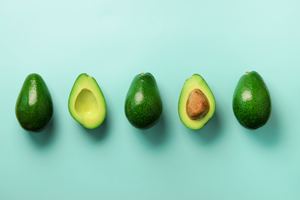 Whether it's your favorite way to eat your toast in the morning or your must-have topping on a salad, we can all agree that avocados get a ton of attention! (and for good reason!) 
However, something that doesn't get enough attention is avocado oil. 
Don't worry, we'll fill you in on everything you need to know. 
What is avocado oil?
Avocado oil is pressed oil that comes from avocados. The oil is considered a carrier oil, not an essential oil. This means that it doesn't have a strong aroma and is derived from the fatty parts of the fruit. 
It's rich in essential fatty acids like oleic and palmitic acid and also contains vitamin E, D, and A. That's why it's also a popular cooking oil with a similar nutritional value as extra virgin olive oil. 
This oil is a key ingredient in skincare and beauty products that can provide several benefits to the hair, skin, and scalp. Moisturizers, face masks, and anti-aging skin care creams likely have avocado oil on the ingredient list. 
The oil is ultra-hydrating and doesn't leave a greasy residue behind, which is why it's also used in hair care products and serums. 
The benefits for your skin
You're probably aware by now that avocado oil is jam-packed with nutrients which is why it is perfect for cooking. However, let's get down to the nitty-gritty reasons it's also great for the skin.
Great source of antioxidants 
Antioxidants are a must ingredient for skin care products because they help combat free radicals and protect the skin from harm. Free radicals are environmental stressors that cause signs of aging, like fine lines and wrinkles. 
Unfortunately, free radicals are everywhere. It's in pollutants, UV rays, and several other environmental stressors. So it's always better to stay protected than to avoid them. 
Retain hydration
Avocado oil works as an emollient, so it helps trap moisture into the skin and provides a protective layer of hydration your skin needs to thrive. 
If you're someone who has dry skin or patches of dryness, avocado oil can help restore the skin and protect it from further skin damage. Using products with avocado oil daily can leave you with smoother, softer skin.  
Nutrients and vitamins 
Our skin needs nutrients to look its best! Avocado oil is a great source of vitamin E, potassium, and lecithin. 
The potassium assists with new skin cell growth and aids the renewal cycle. Lecithin creates a barrier on the skin and protects it from unwanted irritants and environmental stressors. 
Anti-inflammatory properties
The anti-inflammatory properties make avocado oil a safe ingredient to use on sensitive or acne-prone skin and can help calm irritation and reduce redness. 
Since it's an anti-inflammatory, it's also great for managing eczema and treating dry-itchy skin. 
How Naturewell Beauty can help
We don't have to convince you that avocado oil is great. By now, you probably already see all the benefits and want to start applying them to your skin ASAP! 
Our Ultra-Refined Avocado Oil Moisture Cream is a nourishing blend of Avocado, Grapeseed, and Macadamia Nut oils. It works to add rich hydration to even the driest skin and absorbs without leaving a greasy residue. 
You can apply it to your body before you go to bed, so you can wake up with soft, supple skin. 
Maybe, you have some pesky dry patches on your face that need a little extra TLC, so you use it as moisturizing cream before you start the day. 
No matter how you choose to use it, you'll always get to experience the nutrients of avocado oil. 
Buy Ultra-Refined Avocado Oil Moisture Cream on Amazon!
Shop our collection today
Whether you're looking for a go-to moisturizing cream you can use every day on your body or need something to help lock in hydration on your face: NatureWell Beauty has you covered. 
Our collection of skincare products and supplements is formulated with potent nutrients and vitamins. Our products are plant-based, clinically tested, and proven to help you improve your skin's tone and texture. 
We want to make you feel better about your choices while nourishing, moisturizing, and protecting your skin.
Shop our collection today
.