How to Build a Skincare Routine
July 15, 2022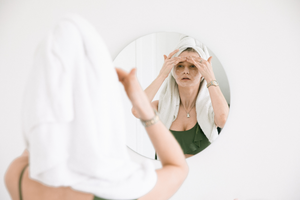 We'll be honest, there are a lot of different skin care products on the market. From serums and toners to eye creams and moisturizers: It's a lot to keep track of! 
The good news is that you don't need to figure out how to perfect your skincare routine on your own. 
We'll walk you through the steps to creating a skincare routine and finding products that help you reach your skin goals. 
Here's how to get started:
Cleanser 
A great skincare routine begins with a trusted cleaner. A cleanser is typically formulated with gentle ingredients that help you cleanse excess oil, dirt, grime, and impurities. You'll want to find a formula that plays well with your unique skin type for the best results. 
Toner
A toner is a water-based product that helps balance pH and removes any residual debris. Some toners have brightening and purifying properties. 
When looking for a toner, you'll want to stay away from ingredients like alcohols, these can be drying and negatively impact the skin. 
Look for ingredients like vitamin C and E, rose oil, glycerin, salicylic acid, and lactic acid. We recommend our Rose Water Facial Toner Spray. 
It's a rich blend of rose water, rose oil, and soapbark extract, the perfect combination of hydration and soothing benefits. With just a few sprays, you'll be ready to take on the day!
Buy Rose Water Facial Toner Spray on Amazon!
Serum
Serums help you treat your concerns and have a more concentrated focus. 
For example, a vitamin C serum can help you with uneven skin tones and brighten your complexion. A retinol serum can help combat unwanted signs of aging. 
There is no right or wrong answer when it comes to serums. You'll want to do your research and tailor your routine to meet your needs. 
Eye Cream
Eye creams are similar to a face or moisturizing cream. 
However, they are formulated to focus on the delicate skin underneath the eyes. These creams help to improve firmness, combat wrinkles, treat dark circles, and remove undereye bags. 
Moisturizer
After eye cream, you'll want to add a face moisturizer. After all the other products you've added to your face, you'll need a trusted moisturizer to lock in hydration and keep your skin supple and soft. 
Some individuals like a lighter formula for daytime use and use something thicker for nighttime. This is up to you, your skin type, and the type of ingredients you're looking for. 
Here's what we recommend:
Nighttime
Dynamic Renewal Cream is a high-performance cream with over 33 botanical super complex ingredients. We recommend using it every night to help you restore radiance, plump, soften, and reduce the appearance of fine lines. 
Buy Dynamic Renewal Cream on Amazon!
Retinol Advanced Moisture Cream provides a multi-action approach to radiant, youthful-looking skin. It's formulated with advanced micro-encapsulated retinol to help boost firmness and elasticity while improving tone and texture. 
Buy Retinol Advanced Moisture Cream on Amazon!
Daytime
Vitamin C Brightening Moisture Cream contains advanced micro-encapsulated Vitamin C for improved efficacy and next-level hydration. Using this cream every day before you apply your makeup can help improve the overall tone and texture.
Buy Vitamin C Brightening Moisture Cream on Amazon!
Avocado Oil Moisturizing Cream is a nourishing blend of Avocado, Grapeseed, and Macadamia Nut oils. It's great for keeping dry, dehydrated skin smooth and supple throughout the long day. All you need to do is apply liberally to your face and let the nutrients absorb into your skin.
Buy Avocado Oil Moisturizing Cream on Amazon!
Sunscreen
Lastly, you'll need a trusted sunscreen to protect your face from UV rays! Sun damage is no joke and can leave fine lines, wrinkles, and imperfections that can be prevented with a trusted sunscreen by your side. 
Complete your skincare routine with NatureWell Beauty
Keep in mind: everyone is different and so are their skincare routines! 
Don't want to use a serum? No problem. Aren't a fan of eye creams? That's okay! Find products that help you treat troubling concerns and help your skin look and feel its best. 
At NatureWell, we have a wide range of moisture creams for every pesky concern, skin type, and preference. If you're ready to take your skincare routine to the next level, shop our collection today.