Body Care 101
May 20, 2022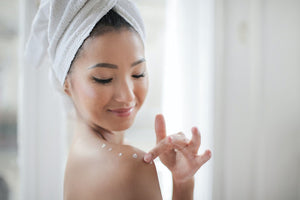 After you've perfected your skincare routine, it's time to move on to the bigger things, like body care. If you didn't know: your entire body can show signs of aging, not just your face and neck. 
Whether that's dry spots, dark spots, or wrinkles: your body is prone to the same problems as your face. That's why you should never skip your body care routine. 
It's time to give yourself some TLC, from head to toe. Not sure where to start? We're here to help. Welcome to NatureWell Beauty's Body Care 101! We're going to let you in on all of our body care secrets, so you can maintain your natural beauty and get the skin you've been craving.
Here are a few things to keep in mind:
Cleanse skin 
Finding a body wash you love is essential to perfecting your body care routine. We recommend looking for something gentle if you have dry or sensitive skin. Don't neglect the other parts of your body! 
Make sure you're clean from head to toe. Get behind the ears, in between the toes, and everywhere else! 
Also, pay attention to the ingredients. Look for something with hyaluronic acid or other moisturizing ingredients. Once you find a body wash you like, you'll feel refreshed and ready to take on your day every time you walk out of the shower. 
Never underestimate the power of exfoliating
The elbows, heels, and knees tend to be the roughest parts of our body, which just means they need a little extra love! To ensure they stay nice and smooth, you'll want to use a trusted exfoliator. 
An exfoliator will help you remove the dead skin cells, leaving your skin smooth and soft to the touch. Depending on the time of the year, you'll want to exfoliate at least two times a week for the best results. 
Don't forget to use a moisturizer afterward to lock in the moisture and softness!
Keep yourself hydrated
To perfect your body care routine, you'll need a hydrating moisturizer that works for your skin type. 
Always keep an eye out on the ingredient list. Look for things that your skin will benefit from, and leave you feeling hydrated, such as coconut oil, avocado oil, or vitamin C. 
If you aren't sure where to start, we recommend trying our Vitamin C Brightening Moisture Cream. It's a crowd favorite that uses the power of vitamin C to enhance your skin tone and provide lasting hydration without leaving a greasy residue. 
Buy Vitamin C Brightening Moisture Cream on Amazon!
Wear sun protection
If you aren't wearing an SPF daily, you're doing it wrong. An SPF is a crucial part of any skincare routine, especially during the warmer seasons. SPF will keep your skin looking and feeling healthy. 
It can also protect you from harmful UV rays, which can cause noticeable signs of aging. Find an SPF that you love, and make it part of your daily routine: your skin will thank you later!
Take your vitamins 
To achieve beautiful, healthy-looking skin: you need to start from the inside. You can do this by adding vitamins or supplements to your diet. 
There are a lot of supplements you can take that will enhance your overall health and help you achieve healthier-looking skin. Our Hydrolyzed Collagen Dietary Supplement is a great place to start. 
This supplement contains antioxidants, vitamins A & C, biotin, and collagen. Together these ingredients will give you bright, glowy skin, lustrous hair, and stronger nails. 
Buy our Hydrolyzed Collagen Dietary Supplement on Amazon!
Find a retinol cream to enhance your PM routine
It's no secret that retinol is considered the holy grail of skincare ingredients. When used regularly, you can benefit from the anti-aging properties that will help combat fine lines and wrinkles. 
You may already use retinol on your face in your skincare routine. However, your whole body can benefit from this ingredient. 
Try our Retinol Advanced Moisture Cream on your body at night before bed. It will help boost firmness and elasticity and improve overall tone and texture.  
Buy our Retinol Advanced Moisture Cream on Amazon!
Body care is essential to achieving the healthier-looking skin you've been wanting. It may take some time to perfect your body care routine. 
However, once you start making a habit of taking care of your skin, head to toe: you'll be happier than ever before! 
We're here to help you get the skin of your dreams, shop our full selection of skincare products and supplements today to find one that works for you.