What Moisturizer Is Best for Your Skin Type?
May 27, 2022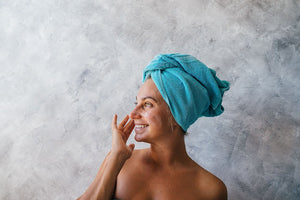 Everyone is on the hunt for the perfect moisturizer. With so many options on the market, it can be overwhelming to figure out what's best for you. Instead of scouring through the ingredient list and searching for more information online, we recommend starting with your skin type. 
Everyone is different, that's why everyone's skin should be treated that way, too. Your skin type says a lot about you and the ingredients that will work best for your skin. 
Here are a few things you can keep in mind as you look for your next favorite moisturizer. 
What is a moisturizer?
A moisturizer is a cream that you apply anywhere on your body. These have a different consistency and formula than your everyday lotion. You'll notice the cream is on the thicker side and has more hydrating properties. A moisturizer isn't usually scented like a lotion is, which means you can apply it to your face or neck without worrying about a breakout. 
Benefits of a moisturizer
Skin brightening 
Some moisturizers, like our Vitamin C Brightening Moisture Cream, can help brighten your complexion. These moisturizers use the power of Vitamin C to improve efficacy and enhance delivery, so they will improve your overall tone and texture over time. 
Buy Vitamin C Brightening Moisture Cream on Amazon!
Hydration booster
When you spend your day out in the sun, surrounded by free radicals like sun and pollution, you'll want to add an extra layer of protection to your skin to help lock in the moisture and prevent dryness. A moisturizer can do that for you! Moisturizers are also a thicker cream that can help you retain water and prevent transepidermal water loss. 
Anti-aging
If the moisturizer contains retinol, like our Retinol Advanced Moisture Cream, it can help maintain a youthful glow. Retinol works to boost firmness and elasticity over time, which will improve the overall appearance of your skin. 
Buy Retinol Advanced Moisture Cream on Amazon!
Moisturizers by skin type
Dry 
If you struggle with dry skin, it can be hard to retain your skin's natural moisture. This can lead to irritation, redness, or dry spots. Do you want to know what the best-kept secret of dry skin is? It's avocado oil. Avocado oil is rich in vitamin A, D, and E and essential fatty acids. Which makes it great for combating dryness or chapped skin. 
If you're ready to experience avocado oil first hand and treat pesky dry areas, try our Ultra-Refined Avocado Oil Moisture Cream. This product will add rich hydration and transform your dry, dehydrated skin into the silky smooth, and supple look you've been craving! 
Buy Ultra-Refined Avocado Oil Moisture Cream on Amazon!
Oily 
Oily skin isn't always easy to take care of. You may feel like some moisturizers add to the problem and don't effectively treat your oily skin type. The good news is: that there are a lot of ingredients on the market that are non-comedogenic, which means they won't clog your pores or add to the problem. 
One ingredient you might not be familiar with is pumpkin seed oil. Pumpkin seed oil is rich in fatty acids, vitamin A and C, and antioxidants. These are a must-have that can help treat oily skin or acne-prone skin. We recommend trying our Pumpkin Oil Moisturizing Cream. It uses the powers of pumpkin seed oil to help hydrate your skin and leave it smooth without feeling greasy.
Buy Pumpkin Oil Moisturizing Cream on Am
Sensitive
It's hard finding products that soothe rather than irritate sensitive skin. You'll want to pay close attention to the ingredient list of moisturizers to ensure nothing in the product can cause unwanted redness or irritation. One ingredient we recommend keeping an eye out for is extra virgin coconut oil. It contains vitamin A, C, and E and has powerful antioxidants that will work to protect your skin from outside factors. 
Products like our Extra Virgin Coconut Oil Moisturizing Cream are a great place to start. It's formulated for dry and sensitive skin and never leaves an oily residue. So you can get the hydrated, beautiful skin you desire!
Don't feel discouraged: the perfect moisturizer is out there for you! You just need to find one that your skin loves. As you consider your unique skin type needs and search for ingredients that will work for you, we recommend
shopping our full selection of skincare
products. We offer a range of moisturizers that all have different benefits that can help you reach your skincare goals.