How to Relieve Dry Skin
September 30, 2022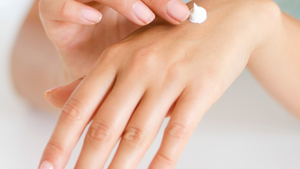 Do you sometimes feel like you're always battling dry patches, itchiness, and flakiness? You probably have dry skin. Dry skin is typically caused by a lack of moisture. Even if you apply a daily moisturizer, you may feel like it never gets to the root of the problem. 
Don't worry, it's not your fault!
Dry skin is caused by an impaired skin barrier. The top layer of our skin is made up of dead cells and natural oils. The natural oils help to trap moisture and keep our skin soft. 
However, if your body isn't producing enough oils, it can lead to a world of irritation. 
Here's everything you need to know:
Understand your skin
If you didn't know: There's a difference between dry skin and dehydrated skin. To keep it simple: Dehydrated skin lacks water and dry skin lacks the natural oils our body secretes. 
Dry skin is considered a skin type, the same way oily and combination skin is. It doesn't retain oil naturally, which means individuals feel like they're always dealing with dry, flaky, and rough patches. 
Dehydrated skin appears dull, tight, and can be sometimes uncomfortable.
How do you know which one you have?
If you have dry skin: You probably have smaller pores and experience frequent flakiness, dry patches, and skin irritation. 
If you have dehydrated skin: You most likely have an uncomfortable tightness or a dull complexion. Your skin may feel tighter or unpleasant after a night of drinking or if you haven't been drinking an optimal amount of water. Sometimes, drinking an extra glass of water does the trick!
How to effectively relieve dry skin
If you feel like you most likely have dry skin, not dehydrated, then this is what we recommend:
Have a go-to cleanser
If you suffer from dry skin, you'll want to head to your bathroom and look at the ingredient list for the cleanser you've been using. If it contains sulfates, that might be why your skin isn't looking any better! 
Sulfates tend to cut oil from the skin. Since dry skin doesn't secrete nearly as much oil as normal skin, it can lead to a bigger problem. 
Instead, you'll want to look for a cleanser that's sulfate free and safe for all skin types. Bonus points if you find one with hyaluronic acid!
Go easy on the exfoliating
If you're using an exfoliating face wash or a face cleansing brush, you may want to go easy with it, especially if you use it twice daily. Anything exfoliating can damage your skin's moisture barrier and cause irritation and inflammation. 
However, that doesn't mean you need to completely stop exfoliating. Instead, opt for safer options. We recommend trying AHA or Alpha hydroxy acids. These are great for removing dead skin cells from your face but are generally safer than other options. 
Go straight in with a trusted toner 
After cleansing your face, you must go straight in with a toner! If you keep your skin bare for too long, it can start to dehydrate. 
We recommend using something alcohol-free, like our Rose Water Facial Toner. This formula will instantly hydrate and replenish the skin with rose water and oil. 
Pro tip: Our rose water is perfect for carrying with you on the go when you need an extra boost of hydration! 
Shop our Rose Water Toner on Amazon!
Apply your moisturizer 
Once your toner is on you'll want to apply your daily moisturizer. Your daily moisturizer is your new best friend. 
Without it, your skin may have some inconsistencies in texture that take away from your favorite makeup looks. (and no one wants that!) 
We recommend opting for something that contains much-needed nutrients, like our Vitamin C Brightening Moisture Cream. This cream contains vitamin C for improved efficacy and enhanced delivery. 
Vitamin C also has natural brightening components to improve the look and feel of your complexion over time. 
Shop our Vitamin C Brightening Moisture Cream on Amazon!
Don't skip your nighttime routine
Before calling it a night, remember to apply a trusted night cream to your face. A night cream has active ingredients that help combat dryness as you sleep. You'll wake up feeling refreshed and ready to take on your day with confidence.
Try out our Dynamic Renewal Cream. It's formulated with 33 botanical supercomplexes to help hydrate, restore, plump, and soften the skin.
Shop our Dynamic Renewal Cream on Amazon!
Get more out of your skincare with NatureWell Beauty
Dealing with dry skin isn't easy. However, with the right products by your side, you can fight irritation head-on and improve the visual appearance of your skin over time. 
At NatureWell Beauty, we want to help you get more out of your skincare. Shop our collection of skincare products today to get started.