How To Prepare Your Skin For Heavy Halloween Makeup
October 07, 2022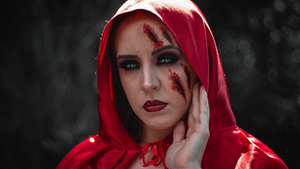 Halloween is just around the corner! Do you know what that means? It's time to trade in your everyday makeup looks for something a bit more spooky. Whether you love trying out new makeup looks throughout October or are obsessed with getting dressed up in your favorite costumes: You'll need to prepare your skin for what's to come. 
Loading on heavy Halloween makeup can cause unwanted irritation and dryness if you aren't too careful. Thankfully, there are steps you can take to ensure you maintain the integrity of your skin and still nail those spooky Halloween makeup looks throughout October.
Here's what you need to know:
Before applying Halloween Makeup 
Cleanse your face
Regardless of the spooky season, you should cleanse your face at least twice a day. A trusted cleanser or face wash will help remove dirt, debris, and excess oil. They also help buff away dead skin cells and remove impurities. 
Using a cleanser is especially important if you're prone to acne. If you load on the heavy makeup without cleansing your skin, you could suffer from inflammation and irritation. 
Use a hydrating toner
The Halloween makeup you can buy in stores can dry out your skin. That means you'll need all of the hydration you can get to ensure you have a soft, supple base to start with. 
Our Rose Water Facial Toner is your new best friend. Our formula is made with Damask Rose Water and Oil: Two ingredients that instantly hydrate and refresh the skin. A few spritzes before your makeup or moisturizer will keep your skin moisturized throughout the day.
Add a protective base with a moisturizer
Before you channel your inner artist, you'll want to add a thick layer of moisturizer. Think of this thick layer as a protective base. A moisturizer is there to help your skin retain moisture and stay protected from the effects of heavy makeup. 
You can't go wrong with our Vitamin C Brightening Moisture Cream. Our formula contains advanced micro-encapsulated Vitamin C that will reveal radiant, healthy skin and improve tone and texture. Applying our vitamin C-enriched moisturizer will help you get the perfect soft, supple base before you apply your scary makeup. 
After applying Halloween Makeup
Wipe away the day with a makeup remover 
After the fun ends and it's time to hit the hay, don't forget to remove all makeup. You'll want to use a makeup remover to ensure you get all of the makeup off. We recommend trying out a cleansing balm. Makeup wipes can cause more harm than good when removing heavy amounts of makeup. 
They often have high levels of alcohol that can disrupt the pH balance of your skin. This isn't something you want to put your skin through, especially after Halloween makeup. A cleansing balm will help you gently buff away the makeup and will lead to less irritation. 
Use a cleanser 
Once your makeup is removed, it's time to go back in with a cleanser. The cleanser is there to help remove any of the residual makeup left on your skin. If you go to bed without cleaning your face, you risk clogging your pores. This is how acne and other skin irritations are caused. 
Add in a renewal cream
Now we'll be honest: Your skin has been through a lot up to this point. You'll want to use an ultra-hydrating moisturizer with nutrients to get your skin back where you need it to be. If you skip the moisturizer before bed, you may experience unwanted dryness or flaky skin. 
To perfect your nighttime routine, you'll need our Dynamic Renewal Cream. This formula contains an exclusive 33 botanical super complex. Together, the nutrient-rich formula will help hydrate, restore, and plump your skin. Which is what your skin will need after the heavy Halloween makeup look you had on all day.
Keep your skin hydrated with Naturewell Beauty
At NatureWell Beauty, we have all the moisturizing and hydrating essentials you need to take on your favorite Halloween makeup looks. We only use the cleanest and most effective ingredients to ensure your skin is experiencing the best of the best.