How To Tighten Loose Skin
January 06, 2023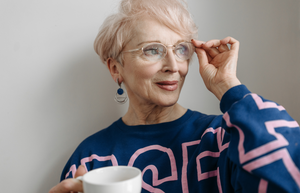 We know how hard it can be to deal with troubling loose skin. If you leave loose, baggy, or saggy skin untreated - it can negatively impact your self-esteem and take away from your natural beauty. 
Luckily, there are several skincare products and treatments to consider to prevent and treat loose skin. 
Here's everything you need to know:
Skin firming creams
When used regularly, moisturizers, creams, and lotions may help improve the visual look of loose skin. Firming skin care is typically formulated with retinoids, hyaluronic acid, collagen, or peptides. While creams can't physically lift sagging skin, they can help stimulate collagen production and provide results when used consistently. 
Our NatureWell® Collagen Moisturizing Cream contains a potent blend of collagen and antioxidants - two must-haves for combating signs of aging. It's formulated to help improve skin plumpness, refine texture, and increase suppleness.
If you're looking for something a bit stronger, try our NatureWell® Retinol Advanced Moisture Cream. It's formulated with advanced micro-encapsulated retinol and can help boost firmness and elasticity.
Serums & Scrubs
Serums help you take a more targeted approach to skincare. They are designed to quickly absorb into your skin and reduce the visual effect of aging. 
If you're struggling with loose skin, you'll want to invest in retinoids. This component is derived from vitamin A and can help improve cell turnover in aging skin. However, retinoids are prescription medication that has to be prescribed by a doctor. 
If you don't have a prescription, try retinol. Retinol has similar anti-aging effects but isn't as powerful as the over-the-counter prescription. 
Body scrubs are also very helpful if you want your skin to appear more youthful. Body scrubs work by removing dead skin cells to help unclog pores, improve the appearance of skin discolorations, and enhance skin clarity. 
Our Dry Body Scrubs are perfect if you're just trying out body scrubs. Our four unique scents contain skin loving ingredients, that were sure you'll love.
Supplements 
There are several supplements to incorporate into your daily routine to help prevent premature signs of aging and help you maintain your youthful glow. If skincare is your biggest concern, you'll want to look for supplements with vitamin C, antioxidants, or hydrolyzed collagen. 
Hydrolyzed collagen is a core ingredient that supports your skin's natural collagen building. This is important because our bodies produce less collagen the older we get. 
Don't forget- consistency is key when it comes to supplements. To see results, you'll need to make them an integral part of your everyday routine. 
Cosmetic treatments 
If you're struggling with loose, sagging skin: You may want to consider cosmetic treatments. While cosmetic procedures can be more intense than topical skincare products or supplements, they can help provide faster results. 
Ultrasound skin tightening
This cosmetic procedure uses heat to help stimulate your skin's natural collagen production. The ultrasound energy helps penetrate into the deeper layers of your skin: helping eliminate fine lines and wrinkles.
Chemical peels 
Chemical peels are one of the most popular cosmetic procedures for loose or sagging skin. A solution is applied topically to your skin and helps smooth the outer surface. It's quick and relatively painless, but you'll need to get it redone every two to three months. 
Botox 
With botox, a medical professional injects botulinum near the troubling areas on your face to help relax the muscles. The procedure is quick, and patients can see results almost instantly. However, the results do fade away after some time. If you want to get botox, you'll need to go back every four months to maintain the progress. 
Adjust your lifestyle 
No matter how old you are, diet, and exercise will be determining factors when combating visual signs of aging. Make sure you're getting at least 30 minutes of exercise every day. Whether it's a walk around the park, a run on the treadmill, or a low-impact activity: Every movement counts. 
You'll also want to have a well-rounded diet full of fruits, veggies, and protein. Consider adding foods rich in fatty acids, vitamin C, and polyphenols. 
Lastly, if you're noticing problems with your skin that you think have been caused by weight gain, don't be afraid to start a weight loss journey. Losing weight is a great way to improve the visual appeal of your skin and overall health. 
Get more from your skincare with NatureWell Beauty
If you aren't ready to commit to a cosmetic procedure or looking for a more holistic approach, lean on NatureWell Beauty. We have an extensive collection of skincare and supplements that can improve the visual appeal of your skin and help you see consistent results.