The Ideal Skincare Routine for Sensitive Skin
January 13, 2023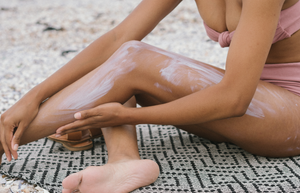 If you have sensitive skin, it may feel like it's a constant battle to keep your skin looking and feeling its best. Fighting off redness, irritation, and ongoing sensitivities can become a real pain - especially if you feel it's challenging to find products that play nice with your skin. 
If you have sensitive skin, the best thing you can do for yourself is to revisit your daily routine, understand your skin and build a skincare routine that accommodates your unique skin type. 
We're here to walk you through everything you need to know:
Start with a cleanser 
Cleansers eliminate dirt, grime, and bacteria that may be gathering in your pores. If you don't start with a cleanser these irritants can build up and cause redness, dryness, and irritation. For the best results: wash your face once a day with a gentle, fragrance-free cleanser. 
Say goodbye to hot showers
Don't worry. We get it! There is nothing better than taking a long, hot shower. However, if it is your go-to daily routine, it could cause serious damage to your skin. 
Prolonged exposure to heat and hot water can negatively impact your skin's lipid barrier, causing redness and irritation. Instead, you'll want to opt for a lukewarm shower. Trust us - your skin will thank you!
Know your sensitive skin symptoms
All sensitive skin is different. Whether your skin is easily irritated by fragrances, ingredients, or environmental changes - you'll want to know your triggers, so it's easier for you to avoid them. The more you know about your skin, the easier it will be to build a skincare routine you can benefit from. 
Be more aware of the ingredients
Not all ingredients are equal. If you have sensitive skin, there are many popular skincare ingredients you'll want to avoid to maintain the integrity of your skin. Here's a list to help you get started:
Fragrances

Alcohols

Parabens 

Sodium lauryl sulfates 

Phthalates

Artificial colors
If you're ready to say goodbye to these irritants, switch to NatureWell Beauty. We offer affordable products formulated with clean and effective ingredients. So you can improve your skin care regimen without worry. 
Make the switch to natural ingredients
Many natural ingredients have a calming effect on the skin. They have natural anti-inflammatory properties that keep your skin looking its best throughout the day. 
Consider switching out your current skincare products for products with ingredients like coconut oil, almond oil, aloe vera, avocado oil, and shea butter. 
Our Pumpkin Oil Moisturizing Cream is formulated with a nourishing blend of Pumpkin, Coconut, and Grapeseed oils. The all-natural formula transforms dry, dehydrated skin leaving it visually radiant, toned, & brightened.
Always moisturize 
Your go-to moisturizer is your new best friend. A moisturizer helps you lock in hydration and builds a protective barrier on your skin. This extra dose of hydration keeps your skin looking and feeling soft and supple. 
For the best results, look for a moisturizer with ultra-hydrating ingredients like avocado oil, coconut oil, or jojoba oil. 
Our Extra Virgin Coconut Oil Moisturizing Cream contains an expert blend of vitamins, natural oils, and antioxidants. The cream is lightweight and never leaves an oily residue, so you can use it all day and feel confident that hydration is locked in. This formula is specifically developed for individuals with dry or sensitive skin and is perfect for all-day use. 
Try out a toner
A toner can help alleviate symptoms of irritation and calm the skin. If you want to use a toner in your skincare routine, you'll want to look for one that is alcohol-free. 
If you're on the hunt for a new alcohol-free toner, try our All Day & Night Facial Toner Kit. The 4 piece kit comes with our Rose Water, Ginger Mandarin, Lavender, and Blue Light Blocker sprays. That way, you have a facial spray for every time of the day! They are compact and easy to carry with you on the go when you need a quick pick-me-up throughout the day. 
Protect your sensitive skin with NatureWell Beauty
Let's face it - sensitive skin is not fun to deal with. No matter what irritates your skin, if you don't have the right skincare products, it can negatively impact your confidence and self-esteem. 
At NatureWell Beauty, our products are formulated with good-for-you, plant-based ingredients. You never need to worry about GMOs, artificial colors and flavors, or animal testing, so you can feel confident about the products you use every day. 
Start shopping today to upgrade your skincare routine.