Self-Care Tips to Incorporate into Your Beauty Routine
August 26, 2022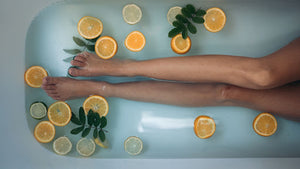 Everyone deserves self-care. It's an essential part of our lives that leaves us looking and feeling our best. When you start prioritizing yourself and your needs, you'll look good, feel good, and be ready to take on the day with newfound confidence.
If you're ready to de-stress and restore your mind and body, here are a few ways you can get started:
Self-care tips to help you upgrade your beauty routine
Let your body rest
Individuals need at least seven to eight hours of sleep every day. Instead of scrolling for countless hours on social media or staying up all night binge-watching your favorite show, consider eliminating distractions and creating a bedtime routine your body can benefit from. 
A bedtime routine allows your mind to reset before jumping into bed. Consider applying a face mask, moisturizing your body with our Extra Virgin Coconut Oil Moisturizing Cream, washing your face, and finding small ways to decompress after a long day - you deserve it.
Shop Extra Virgin Coconut Oil Moisturizing Cream on Amazon!
Move your legs
With work from home and the ongoing chaos of life, sometimes we simply forget to keep moving our legs. Make a morning walk part of your gym or hit the gym after you get off work. You'll start to experience the physical health benefits, feel more relaxed, and get your endorphins going!
Prioritize your skin health 
If you didn't know, taking care of your skin barrier is the most important part of skincare.
One great way to support your barrier is by incorporating a moisturizer, like our Probiotic Moisturizing Cream. This cream helps balance your skin and reinforces your skin's microbiome.
Shop Probiotic Moisturizing Cream on Amazon!
Don't let signs of burnout go unnoticed!
Burnout is a serious issue for individuals. It can be mentally draining and impact your quality of life. If you start to feel groggy or it's becoming increasingly hard to focus, consider taking time to yourself to relax.
Get organized 
When life gets cluttered, you often feel overwhelmed. Taking a step back and organizing your life will help you feel at peace with yourself. Start creating easy to-do lists, clean your makeup drawer, and refresh your beauty products with new items formulated for your benefit. Go through your closet and reorganize your clothes, do a load of laundry, and take control of your life. 
Drink water, daily 
Trying to drink eight cups of water a day may sound like a daunting task: But we swear it's not as hard as it seems! Once you make water part of your daily routine, you'll get used to drinking the right amount daily, and your body will experience all of the incredible benefits. 
Drinking eight cups of water will help keep your skin moisturized and hydrated, help combat dryness, and eliminate acne for some individuals. 
Prioritize your skincare!
The truth is: When you look good on the outside, you feel good on the inside! If you need a confidence boost, you can start by going the extra mile for your skin.
Upgrade your self-care routine with NatureWell Beauty
At NatureWell Beauty, our products are designed to upgrade your daily routine and give you a better you made simple. If you're ready to experience the difference clean and effective ingredients can make, shop our collection today.