The Benefits of Natural Skincare
August 19, 2022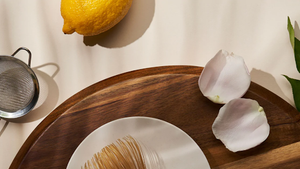 We'll be honest with you: Your skin deserves the best of the best. That's why prioritizing natural skin care products is so essential. These products are expertly formulated with you and the planet in mind: So you can feel confident about what you're putting on your skin and into your body.
If you're ready to ditch synthetic ingredients and start investing in higher-quality products, we're here to help. 
Here are a few of the benefits of natural ingredients:
Better for the planet
Natural skincare items are much better for the environment than synthetic ones. 
Synthetic products aren't always honest about the ingredients or the manufacturing process. Most of the ingredients you find on the back of the label that you aren't familiar with are developed in a lab. So it's hard to know what the true impact of these ingredients will be in the future.
Safer for the skin
We'll let you in on a secret, the reason you have so many problems with your skin is usually the synthetic ingredients in your everyday products. 
Synthetic ingredients are harsher on the skin and can cause redness and unwanted irritation. Switching to natural choices is highly recommended for individuals with sensitive, oily, or acne-prone skin: To ensure they maintain their natural beauty and youthful glow!
They aren't tested on animals 
Don't you love your furry friends? Yeah, we do too! Natural skincare items don't require unnecessary animal testing. Since natural skincare ingredients are natural and are found in the environment, there's never a need to test on animals. 
Jam-packed with essential nutrients 
Natural skincare products have ingredients your skincare benefits from in the long run! Switch out synthetic ingredients for Vitamin C, Vitamin D, Vitamin E, Avocado Oil, and retinol - your skin will thank you later!
Reassurance 
Don't you hate when you invest in a new skincare product and can't pronounce any of the ingredients on the list? It's a clear sign they use synthetic ingredients that have no real benefits for your skin. There's no telling what these ingredients can do to your skin in the long run, but with natural ingredients, there's reassurance. You don't need to worry about skin irritations or harmful chemicals entering your bloodstream. You can feel good about what you're putting on your skin and look good: at the same time!
Upgrade your skincare with Naturewell Products
Sold on making the switch to all-natural? We knew you would be! 
Here are a few NatureWell choices to help you get started:
Retinol is a must-have anti-aging ingredient and is naturally found in foods derived from animals. Our advanced moisture cream is formulated with advanced micro-encapsulated retinol, to help boost firmness, elasticity and improve overall tone and texture. 
Shop our Retinol Advanced Moisture Cream on Amazon! 
Coconut oil comes from the meat of coconuts. It's commonly found in natural skin care products and is praised in the beauty industry for its antimicrobial and antioxidant properties. 
Our moisture cream is a light yet effective skin conditioner that provides intense hydration. We recommend applying at least twice daily for visually softer and smoother skin.
Shop our Extra Virgin Coconut Oil Moisturizing Cream on Amazon!
You may use avocado oil in the kitchen, but did you know it's also great for your skin? This oil is derived from the pulp of an avocado and can deliver intense hydration without leaving a greasy residue. 
That's just to skim the surface of some of the natural skin care products we have available on our site. At NatureWell Beauty, our skincare solutions are designed to bring you the best nature has to offer. We only use good-for-you and clinically tested formulas, so you can rest assured that you're always giving your skin the absolute best! 
Shop our Ultra-Refined Avocado Oil Moisture Cream on Amazon!