10 Spring Skincare Trends in 2022
June 03, 2022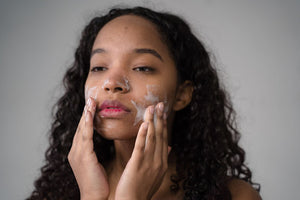 It's time to retire those thick moisturizers and breathe new life into your skin because spring is here! Spring is a time for reviving, rejuvenating, and embracing your natural beauty. 
It's no secret that skincare trends change with the season. As you look for ways to stay on trend and improve your current skincare routine, we're here to help.
Here are ten trends that are on our radar this spring:
Slugging
Slugging is a must-try beauty hack for anyone who suffers from dry skin. It's a popular trend on social media that has slowly taken the skincare and beauty world by storm.
How it works is after you apply your nighttime skincare routine, you add petroleum jelly as the last step. Doing this can help smooth and revive dry skin and leave you with a soft, supple touch. 
Keep in mind: If you have acne-prone skin, you may want to be careful. Slugging can trap the oils on your face and cause acne for some skin types. 
Ice rollers 
You've probably seen these all over your social feeds. Ice rollers can calm and soothe the skin and even have a calming effect on your mental health. 
They can also tighten and shrink pores, providing visibly younger-looking skin. Plus, they feel amazing on the face! (especially during the warmer seasons!)
Retinol for the body
Retinol is known as the holy grail for skincare. It helps maintain radiant, youthful skin and has components that reduce the appearance of fine lines and wrinkles. 
However, it's quickly becoming a popular ingredient for the body, too! Try our Retinol Advanced Moisture Cream: this formula has advanced micro-encapsulated retinol. So adding this cream into your daily routine will help improve firmness and elasticity.
Buy our Retinol Advanced Moisture Cream on Amazon!
Choosing cruelty-free 
Cruelty-free skincare products are nothing new. 
However, consumers are more mindful of the products they're choosing to add to their daily routine. They want to know the products aren't contributing to harm and feel good about what they're using. 
P.S. All of our NatureWell Beauty products are cruelty-free!
Prioritizing a body care routine
We all have a put-together skincare routine, but body care is even more important during the warmer months. Your skin is exposed to more external factors and environmental stressors, like pollutants and UV rays. 
This means you'll want to start prioritizing your body care routine and give you the boost of moisture and nourishing ingredients you need to maintain healthy, younger-looking skin. 
Trying out face sculpting
You've probably already seen a Gua Sha stone on TikTok or Instagram. This tool de-puffs the face and is said to be able to remove fluid build-up, which can leave you with younger-looking skin. 
Back to the basics
Winter is all about hydrating and keeping your skin as moisturized as possible. 
However, there's no need to go that heavy on the products during springtime. Most people look for ways to keep things simple and only use a few products to keep their skin looking and feeling its best. 
If you're looking to minimize your skincare this spring, you'll still want to add in Vitamin C. It's an integral part of any effective skincare routine. Try our Vitamin C Brightening Moisture Cream to help reveal radiant, healthier-looking skin.
Buy Vitamin C Brightening Moisture Cream on Amazon!
Choosing good-for-you ingredients 
An effective skincare routine is all about good-for-you ingredients that you know will help you see the results you're looking for for years to come. 
This spring (and probably for all the seasons to follow!) Individuals are taking their time to research and educate themselves on the benefits of the ingredients they use: and you should, too! 
To help you get started: take some time to do your research on Vitamin C, Retinol, and Antioxidants.
Can't forget your neck!
Moisturizing your neck is becoming a must. The skin on our necks is delicate and requires extra attention. Since it doesn't have as many oil glands as the rest of our body, it is prone to wrinkles and fine lines. 
When you apply your moisturizer in the morning or night, don't forget to lather some onto your neck to help prevent signs of aging. 
We recommend trying our Collagen Moisturizing Cream. It's rich with amino acids and peptides, which will help refine textures and improve skin plumpness. 
Shop Collagen Moisturizing Cream on Amazon!
The clean and fresh vibe, all spring long!
There's nothing better than the clean, fresh beauty look during spring. People are going lighter on the make-up, letting their skin breathe, and looking for products to complement the less is more routine they're trying to achieve. 
One way to do this is with a Rose Water Facial Toner Spray. These are easy to carry with you on the go and will leave you feeling refreshed. Our formula has a rich blend of Rose Water, Rose Oil, and Soapbark Extract to deliver maximum hydrating and soothing benefits.