8 Skincare Trends We Expect to See in 2023
January 27, 2023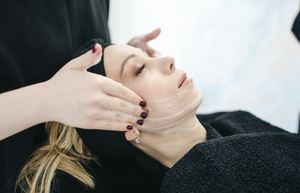 2023 is finally here and with the new year comes new ways to take care of your skin. People are always on the hunt for new ways to achieve a visually healthier-looking complexion. Whether it's an innovative cosmetic treatment that's growing in popularity or a new skincare ingredient with anti-aging benefits: Every new skincare trend unlocks new ways to improve your skincare routine. 
We're here to walk you through eight skincare trends on our radar that you should consider trying in the new year. 
Let's take a closer look:
Two-in-one products
Are you looking for a quick and easy skincare routine? Tired of spending so much time in front of the mirror every morning? You aren't alone. That's why two-in-one products are in demand. 
Some two-in-one formulas can be as effective as the two products you purchase. We're sure to see more individuals shop for a moisturizer formulated with SPF, potent serum ingredients, or hydrating lotions that work as primers. These products ensure your skin is hydrated and protected. Plus, they take half the effort of applying and buying two products. 
Try our Super Beauty Cream. This cream is packed with skin-loving ingredients that will provide an endless amount of benefits without breaking the bank. This formula contains Collagen Tripeptide and Marine Algae, which will significantly restore skin's elasticity and reduce signs of premature aging, while providing intense hydration. 
The rise of peptides 
Peptides grew in popularity in 2022 and will continue to take the beauty industry by storm well into 2023. This ingredient was popularized by celebrities and top-selling products throughout 2022. If you aren't familiar, Peptides are made from chains of amino acids. Research suggests they can help rebuild and replenish damaged skin and have wound-healing components. When used regularly, it also has anti-aging properties. 
If you're ready to experience the magic of peptides, try our NatureWell® Collagen Moisturizing Cream. This go-to moisturizer contains amino acids, peptides, and collagen - three skincare must-haves that help you achieve healthy-looking, hydrated skin.
Prioritizing body care
Body care is hardly talked about but is just as important as the rest of your skincare regime. I mean, think about it! The skin on your body makes up over 90% of your skin. 
In 2023 and beyond, there will be an extra focus on moisturizers, creams, and other skincare essentials that focus on healing the rest of your body, not just the skin on your face. 
Our Dry Body Scrubs are an essential part of a good skincare routine for your body. Use the scrub before applying moisturizer to remove dead skin cells and improve skin texture. This will leave your body feeling as soft and smooth as ever!
Quality over quantity
Say goodbye to 10-step skincare routines and say hello to skinminimalism. The truth is, you don't need many products to see results. You could achieve the same youthful glow with just a few potent formulas. We will see the beauty industry move towards simplified yet effective skincare regimens. 
Makeup products with skincare ingredients 
As we move towards a more minimalist approach to skincare, we're sure to see the same trend in makeup, too. Makeup hybrids help individuals achieve visually healthier-looking skin with half the effort. Be on the lookout for more moisturizers that double as primers and BB creams with hydrating ingredients!
Injectable treatments 
Botox is a popular injectable treatment that helps combat signs of aging and eliminates fine lines and wrinkles. While botox is an effective cosmetic treatment, there are new hydrating injectable treatments on the market that are formulated to enhance your skin's natural appearance and keep your skin soft and supple. 
Think of these treatments as hydrating boosters. With a quick boost of hyaluronic acid, you can achieve that soft, supple skin you've been craving: almost instantly. Some formulas can help combat dark undereye circles and other pesky skincare concerns. 
The rise of Eastern Medicine
Holistic and all-natural skincare treatments are growing in popularity. Since early 2022, individuals have looked for holistic approaches to wellness, makeup, and skincare. One of the most popular treatments resides in traditional Chinese medicine. 
We're sure to see more formulas with green tea, herbs, essential oils, and other plant extracts. These are all must-haves in Chinese medicine that have been shown to have incredible results for your skin. Other popular Chinese medicine  ingredients include saffron, ginseng, gjoi berries, and pearl powder. 
Try our Lavender Moisturizing Cream if you're looking to make your way into this trend. Lavender is used therapeutically in the practice of Chinese medicine for it's calming properties.
A focus on the skin barrier 
If you want to achieve a natural, beautiful glow, it's time to prioritize skincare essentials that focus on protecting, strengthening, and improving your skin barrier health. Your skin barrier protects your body from outside factors and helps you retain moisture. With a stronger skin barrier: You can also combat irritation, redness, and sensitivities. 
In 2023, we're sure to see beauty brands add extra emphasis on skin barrier health. This means you'll see more moisturizers, serums, and creams formulated with ultra-hydrating ingredients. These include coconut oil, avocado oil, honey, and retinol. 
Our Dynamic Renewal Cream is perfect if your looking to improve your skin barrier. Formulated with our exclusive 33 Botanical Super Complex, this formula helps hydrate, restore radiance, plump, soften, and reduce the appearance of fine lines.
Upgrade your skincare with NatureWell Beauty
Whether you're ready to jump on the body care trend or looking for hydrating moisturizers to add to your skincare routine in 2023, we're here to help. At NatureWell Beauty, we have an intensive collection of skincare products formulated with good-for-you ingredients that will help you see results.