Antioxidants: What They Do and How to Include Them in Your Skincare Routine
July 08, 2022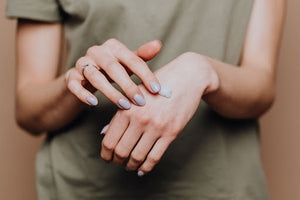 There's no one size fits all recipe for perfect skin. Everyone's skin is different, and so are the products individuals use to help them achieve their skincare goals.
However, there is one skincare ingredient we can all agree that an individual can benefit from. Antioxidants in skin care are a must-try because antioxidants protect your skin from free radicals. 
If you don't know what free radicals are, they are the 'bag guys' of the skincare world. The one thing that all products are desperately trying to protect us from. 
The good news is that you probably already utilize antioxidants in your skincare routine... you just don't know it! 
Here's everything you need to know:
What are antioxidants?
Antioxidants are anti-inflammatory substances found in the foods we eat and the beauty products we use. They are in ingredients like retinol, vitamin C, vitamin E, niacinamide, and more. 
The main role of antioxidants is to protect the body from free radicals and protect skin cells from unwanted damage. 
Here's the bad news: Free radicals are everywhere and aren't that easy to prevent. They're in sunlight, tobacco, pollutants, and environmental toxins. 
These environmental stresses can cause oxidative damage, and incorporating antioxidants into your diet and skincare is the only way to combat their effects.
Antioxidants work for you, helping to battle unwanted damage and keep your skin looking and feeling its best. 
What are the benefits of antioxidants in skincare?
Brightening properties 
Free radicals are what commonly cause dark spots and inconsistencies in skin tone. When added to your daily skincare routine, antioxidants can combat these environmental stressors and prevent unwanted abnormalities in the skin. 
Repair the skin 
Since antioxidants are anti-inflammatory, they can help aid the skin's natural renewal process and aid with collagen production. Using a trusted skincare product with a potent amount of antioxidants can help correct any damage that has already happened to the skin and prevent more from happening. 
Prevent sun damage 
UV rays are considered a free radical that can damage the skin. Prolonged exposure to UV rays and the sun can cause wrinkles, fine lines, and even skin cancer. Since antioxidants have anti-inflammatory properties, they can help prevent sunburns and provide enhanced protection against sun damage.
Anti-aging properties
Wrinkles, fine lines, loose skin, and acne scars don't stand a chance with antioxidants. These visible signs of aging come from oxidative stress caused by free radicals. Oxidative stress breaks down the collagen within our skin and leaves unwanted imperfections. 
How to include more antioxidants in your skincare routine
Now it's time to build a skincare routine that provides you with all the benefits of antioxidants. 
Here are a few key skincare ingredients to look for:
Vitamin C 
Vitamin C is a dermatologist's favorite. This one ingredient can help prevent sun damage, brighten your complexion, and help you reach your skincare goals. 
If you're looking to incorporate more vitamin C into your skincare, you can try using a serum on your face or our Vitamin C Brightening Moisture Cream on your body. This moisture cream is formulated with advanced micro-encapsulated vitamin C for improved efficacy. 
Buy Vitamin C Brightening Moisture Cream on Amazon!
Retinol
Retinol is often referred to as the holy grail of the skincare industry... and for a good reason! 
Retinol is there to give your skin the collagen boost it needs to prevent fine lines and wrinkles. It's there to help amp up cell turnover, clear acne, and maintain your youthful glow. 
Our Retinol Advanced Moisture Cream provides a multi-action approach to your skin to provide a radiant glow and boost the firmness and elasticity of the skin. 
Buy Retinol Advanced Moisture Cream on Amazon!
Coconut oil
Virgin coconut oil is great for locking in moisture and reducing inflammation. It's also great for plumping the skin and reducing the appearance of fine lines and wrinkles. 
We recommend trying our Extra Virgin Coconut Oil Moisturizing Cream. It contains vitamin A, C, and E and contains no parabens. 
Use this cream on dry and sensitive skin to deliver rich moisture to the skin. Incorporating this moisture cream into your daily routine can help you maintain visually softer and smoother skin over time.
Buy Extra Virgin Coconut Oil Moisturizing Cream on Amazon!
Enhance your skincare routine with Naturewell Beauty 
Whether you're just getting into skincare or you're looking to revamp your current routine: we're here to help. We have a wide range of moisture creams formulated with beneficial ingredients.